In Japan, it rains a lot in June. June is the transition period from spring to summer. For that reason, I do not recommend June as a time for travelling. However, on rainy days, both temples and shrines are quiet and very calm. In June, hydrangeas will bloom at temples and shrines. If you go to such spots in June, you will surely calm your mind.
Photos: Hydrangeas -They become more beautiful on rainy days!

From June to the first half of July, the rainy season called "Tsuyu" continues in Japan, except in Hokkaido and Okinawa. There are many rainy days at this time, and honestly, it is not suitable for travel. But during this time, wonderful flowers welcome you. Those are the hydrangeas that I ...
Information of Tokyo, Osaka, Hokkaido in June
If you plan on going to Tokyo, Osaka or Hokkaido in June, please click an image on the slider below for more information.
2020/6/17
Tokyo Weather in June! Temperature, rain, clothes
There are many rainy days in Tokyo during the month of June. Humidity is high and the temperature rises steadily. Therefore, in June, you need to have some clothes that you can use when the weather I muggy. An umbrella is also a necessity during this rainy season. On this page, referencing the weather data released by the Japan Weather Association, I will introduce you to the weather in Tokyo for June. Below are articles about the monthly weather in Tokyo. Use the slider to select the month you wish to know more about. Below are articles concerning the weather in Osaka and Hokkaido in June. If you plan to go to Hokkaido as well as Tokyo, please note that the weather in Hokkaido is quite different from Tokyo. For spring and summer clothes, please refer to the following articles. Table of ContentsWeather in Tokyo in June (overview)Tokyo weather in early June  2018 (2017)Tokyo weather in the middle of June 2018 (2017)Tokyo weather in late June 2018 (2017) Weather in Tokyo in June (overview) Graph: Temperature change in Tokyo in June ※ Based on the data released by the Japan Meteorological Agency. Both high and low temperature data are averages over the past 30 years (1981-2010) In Tokyo, the rainy season usually starts in early to mid-June. The rainy season lasts for about a month. After that, from around July 20th, true summer will come to Tokyo. In late June, temperatures may exceed 30 degrees Celsius. At that time, short-sleeved summer clothes are preferable to ...
I recommend visiting quiet temples and shrines.
I recommend Kamakura temples as tourist attractions in June. Kamakura is about an hour away by train from the city center of Tokyo.
Meigetsuin temple and Hasedera temple are especially recommended. A myriad of hydrangeas bloom in June every year at these temples. The top photo on this page was taken at Meigetsuin.
If you want to see hydrangeas at temples in Kyoto, I recommend that you go to Mimurotoji temple. Mimurotoji is famous for its beautiful hydrangea garden. The garden opens every year from the beginning of June until around the beginning of July. Below is a video featuring the garden of Mimurotoji.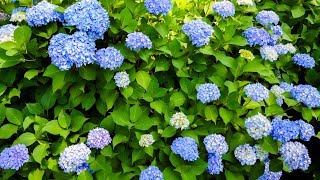 Hydrangeas bloom in the main cities of Honshu from the middle of June to the beginning of July. However, in 2018 many hydrangeas bloomed from the beginning of June.
Cherry blossoms look beautiful on sunny days. On the other hand, hydrangeas flowers can look beautiful rain or shine. Perhaps hydrangeas look more beautiful on rainy days. Every year many tourists quietly appreciate these summer hydrangeas. Why don't you see for yourself?
The mountains also unexpectedly have beautiful scenery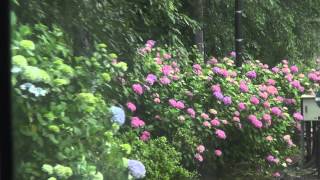 Hydrangeas bloom a lot in the mountains also. The Japanese people living in Tokyo often go to see hydrangeas in Hakone, and not only Kamakura.
The above video features the hydrangea flowers around the Hakone Tozan Railroad.
The Hakone Tozan Railway is famous for hydrangea blooming along the railroad tracks. There are approximately 10,000 plots of hydrangeas along the railway line.
In Hakone every year many flowers of hydrangea bloom from the end of June to the middle of July. Hakone is a little cooler than Kamakura, so flowers bloom a little later.
Every year when hydrangea bloom, trains dedicated to their viewing take place. For more information, please visit the official website below.
>> The official website of Hakone Tozan Railroad is here
I appreciate you reading to the end.
What to do in case of a typhoon or earthquake in Japan

Even in Japan, damage from typhoons and heavy rains is increasing due to global warming. In addition, earthquakes often occur in Japan. What should you do if a typhoon or earthquake occurs while you are traveling in Japan? Of course, you are unlikely to encounter such a case. However, it is ...
About me
Bon KUROSAWA  I have long worked as a senior editor for Nihon Keizai Shimbun (NIKKEI) and currently work as an independent web writer. At NIKKEI, I was the editor-in-chief of the media on Japanese culture. Let me introduce a lot of fun and interesting things about Japan. Please refer to this article for more details.