If Japanese people express Fukushima prefecture in one word, many people will name the word "patience". People in Fukushima prefecture have long experienced many hardships and have overcome them. Recently, the dark image spread to the world due to the nuclear power plant accident accompanying the Great East Japan Earthquake (2011). Now people in Fukushima prefecture are trying hard to overcome this hardship. On this page, I will introduce recommended sightseeing spots based on such background in this prefecture.
Outline of Fukushima
History and present situation of Fukushima
Fukushima Prefecture is in the southern part of the Tohoku region, and the east side faces the Pacific Ocean. This prefecture has population and economic power second only to Miyagi prefecture in Tohoku district.
In the era of the Tokugawa shogunate, there was Aizu clan in this prefecture to support the Tokugawa shogunate. The samurai of the Aizu clan was well trained and very brave. The Aizu clan kept fighting against the new government army until the end to protect the shogunate. As a result, many Samurai of Aizu clan killed in the battle.
In 2011, the nuclear power plant located on the coast of this area was destroyed by the tsunami associated with the Great East Japan Earthquake, and a radiation contamination accident occurred. At this time, residents around the nuclear power plant were forced to evacuate. Today people in Fukushima Prefecture are trying to regain the area by overcoming this hardship.
Access
Airport
There is Fukushima Airport in the southern part of Fukushima Prefecture. At this airport, scheduled flights are in service with the following airports.
There is Fukushima Airport in the southern part of Fukushima Prefecture. At this airport, scheduled flights are in service with the following airports.
Shin Chitose (Sapporo)
Itami (Osaka)
Shinkansen (Bullet train)
JR Fukushima station is the main station of Tohoku Shinkansen and Yamagata Shinkansen. From JR Tokyo station to Fukushima station, it is about 1 hour and 30 minutes by the fastest train.
In Fukushima prefecture, the Shinkansen stop at Shin-Shirakawa station and Koriyama station in addition to Fukushima station.
Recommended video
After the Great East Japan Earthquake, the following video was produced for sightseeing PR in the Tohoku region such as Fukushima Prefecture in Japan. I think that this video expresses the characteristics of Fukushima prefecture well.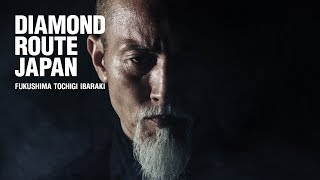 Tsuruga Castle
Tduruga Castle in Aizuwakamatsu City, Fukushima Prefecture is a beautiful castle representing the Tohoku region. This castle was the castle at the center of the Aizu clan once in Fukushima Prefecture.
In the late nineteenth century, the Aizu clan fought against the new government army to the last to protect the Tokugawa shogunate. During this war, Tsuruga Castle was attacked violently by a new government army. The samurai in this castle kept fighting for more than a month, but was defeated at the end.
For people in Fukushima Prefecture, Tsuruga Castle is a symbol of the region. I wrote about this castle in an article introducing Japanese castles. If you are interested, please drop in on this article as well.
>> For details of Tsuruga Castle please see this article
JR Aizuwakamatsu Station is about 60 minutes by Banetsu West Line from JR Koriyama Station. Tsuruga Castle is about 10 minutes by bus from Aizuwakamatsu Station.
>> The official site of Aizuwakamatsu is here
Ouchijuku village
Ouchijuku village is a fomer post town along the Aizu-Nishi Kaido route, which connected Aizuwakamatsu with Nikko (Tochigi Prefecture) in the era of the Tokugawa shogunate.
Ouchijuku village has an altitude of 650 meters, surrounded by mountains. There are a lot of snow falling in winter. As you can see in the picture above, there is a big road in the middle of the village, and on both sides of that road there are old-fashioned houses of thatched roof.
During the war between the Aizu clan and the new government army in the latter half of the 19th century, there was a fierce battle in this village, but the houses remained miraculously. Ouchijuku village still has the atmosphere of the post town of Tokugawa shogunate era. So, many tourists come to this village.
If you go to this village, you will feel the era when the samurai lived. Ouchijuku village is about 15 minutes by taxi from Yunokami Onsen station.
>> For details of Ouchijuku village please visit the official website
Spa Resort Hawaiians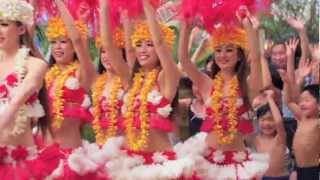 Spa Resort Hawaiians is a huge hot spring theme park in Iwaki City, Fukushima Prefecture. At this theme park you can enjoy hot springs and pools. In addition, you can see the Hawaiian dance show. There is also a golf course.
In Iwaki City where Spa Resort Hawaiians is located, there was a coal mine, but it was closed. For this reason the locals built this theme park to survive. Local girls practiced Hawaiian dance very hard and started their own show. The Japanese film "Hula Girls" (2006) produced based on this true story became a huge hit and Spa Resort Hawaiians became widely known. The following movie is a trailer of this movie.
Unfortunately, during the Great East Japan Earthquake of 2011, Spa Resort Hawaiians suffered some facilities damage. Although this theme park was forced to take a day off, during that time Hula Girls went to publicity all over Japan and kept doing dance. After reopening in one year, this theme park is increasing popularity again.
Spa Resort Hawaiians is a theme park ideal for families to visit from Tokyo. Here are various types of hotels. All these hotels are child-friendly accommodation. I recommend hotels of Spa Resort Hawaiians as one of the most friendly hotels for families in Japan.
Spa Resort Hawaiians is about 15 minutes by free bus from Yumoto Station of JR Joban Line.
>> Please see the official website of Spa Resort Hawaiians for details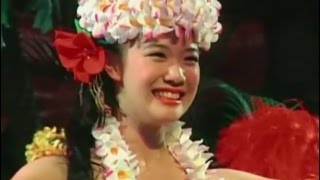 I appreciate you reading to the end.
About me
Bon KUROSAWA  I have long worked as a senior editor for Nihon Keizai Shimbun (NIKKEI) and currently work as an independent web writer. At NIKKEI, I was the editor-in-chief of the media on Japanese culture. Let me introduce a lot of fun and interesting things about Japan. Please refer to this article for more details.