Summer in Japan is very hot. However, there are still traditional summer festivals and large fireworks festivals in Japan. If you go further north to Hokkaido or to the mountains of Honshu, you will be greeted with wonderful meadows full of flowers. Surprisingly beautiful beaches are also attractive areas to visit in this season. On this page, I will explain how you can enjoy the summer in Japan.
Photos: Major summer festivals in Japan!

From July to August, Japan is extremely hot except for Hokkaido and some mountainous areas. So basically, I can't really recommend summer trips to Japan except Hokkaido and so on. But if you like festivals, then it might be fun to come to Japan in the summer. There are many amazing ...
Recommended for traveling in Japan in June, July, August
I gathered articles for each month of the Japanese summer. If you want to know more details, please use the slider below and click the month you are planning to visit. If you want to know what kind of clothes the people of Japan are wearing in summer, I also wrote articles on this topic for your enjoyment.
2020/6/17
Japanese weather in June! Rainy season except Hokkaido and Okinawa
In Japan, it rains a lot in June. June is the transition period from spring to summer. For that reason, I do not recommend June as a time for travelling. However, on rainy days, both temples and shrines are quiet and very calm. In June, hydrangeas will bloom at temples and shrines. If you go to such spots in June, you will surely calm your mind. Table of ContentsInformation of Tokyo, Osaka, Hokkaido in JuneI recommend visiting quiet temples and shrines.The mountains also unexpectedly have beautiful scenery Information of Tokyo, Osaka, Hokkaido in June If you plan on going to Tokyo, Osaka or Hokkaido in June, please click an image on the slider below for more information. I recommend visiting quiet temples and shrines. JIzo with blue bib in Meigetsuin temple Kanagawa,Japan = shutterstock I recommend Kamakura temples as tourist attractions in June. Kamakura is about an hour away by train from the city center of Tokyo. Meigetsuin temple and Hasedera temple are especially recommended. A myriad of hydrangeas bloom in June every year at these temples. The top photo on this page was taken at Meigetsuin. If you want to see hydrangeas at temples in Kyoto, I recommend that you go to Mimurotoji temple. Mimurotoji is famous for its beautiful hydrangea garden. The garden opens every year from the beginning of June until around the beginning of July. Below is a video featuring the garden of Mimurotoji. Hydrangeas bloom in the main cities of Honshu from the middle of June to the beginning ...
From here on, I will introduce the tourist spots I can recommend when traveling Japan in summer. I added many photos and videos on this page to give you an idea of the summer atmosphere of Japan.
Enjoy the summer festivals in Japan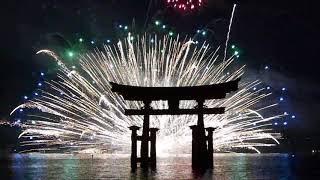 This video shows the fireworks festival held in Miyajima, Hiroshima Prefecture every August. There are many festivals in Japan during the summer. In these festivals, some people will wear traditional kimono. You can see performances or events that have been held over a long history. You will be able to see scenery unique to Japanese festivals.
In the summer, firework festivals are held in various places. At those events, many Japanese people will wear traditional kimono, especially young men and women. Why not attend a firework festival and enjoy this Japanese summer atmosphere for yourself?
representative Japanese summer festivals
The following festivals are representative summer festivals of Japan.
July
· Gion Festival (Kyoto City)
August
· Aomori Nebuta Festival (Aomori Prefecture Aomori City)
· Hirosaki Neputa Festival (Hirosaki City, Aomori Prefecture)
· Sendai Tanabata Festival (Sendai City, Miyagi Prefecture)
· Akita Fall Light Festival (Akita City, Akita Prefecture)
· Awa Odori (Tokushima City, Tokushima Prefecture)
Representative Japanese fireworks festivals
Representative Japanese fireworks festivals are held in the following places. I will focus on the famous fireworks display to be held in the summer.
July
· Tokyo (along the Sumida River)
August
· Nagaoka city, Niigata Prefecture
· Ise city Mie prefecture
· Daisen city, Akita prefecture
Relaxing in Hokkaido or Honshu Plateau
The sightseeing spots I would like to recommend to you for the summer are Hokkaido and highland areas of Honshu such as Nagano prefecture. These areas are relatively cool in the summer and feature beautiful flowers for your enjoyment.
In Hokkaido, you can spend your time comfortably in summer almost anywhere. The highlands of Honshu that I want to recommend to you are the following.
· Hakuba village, Nagano prefecture
· Karuizawa, Nagano Prefecture
· Kamikochi, Nagano Prefecture
Spend time at the beautiful beaches of Okinawa
Finally, the last area I would like to recommend to you is Okinawa. Okinawa is located in southern Japan. However, because it is a small island compared to mainland Japan, the sea breeze blows cool air making it a comfortable place to spend your time. There are many beautiful beaches found in Okinawa known worldwide. In addition to the main island of Okinawa, there are also solitary islands such as Ishigakijima and Miyakojima. You will be able to fully enjoy beautiful nature in peace on such remote islands.
Things to watch out for when visiting Japan in the summer
If you visit Japan during the summer, there are two things you want to be aware of. Take caution from extreme weather conditions such as heatwaves and typhoons.
Japanese summers are as hot as tropical summers. When travelling, you must be careful to avoid heat stroke. When outdoors, please remember to stay hydrated.
In summer, you should be ready for quick changes in weather. It rains a lot in Japan during the summer and can sometimes rain very heavy. There are times when a typhoon will hit Japan. At these times, trains and airplanes will often experience delays or cancellations.
When traveling Japan in summer, please pay attention to the weather forecast. If a typhoon is coming, do not put yourself in danger by going outside. Spend your time indoors in places such as your hotel.
I appreciate you reading to the end.
What to do in case of a typhoon or earthquake in Japan

Even in Japan, damage from typhoons and heavy rains is increasing due to global warming. In addition, earthquakes often occur in Japan. What should you do if a typhoon or earthquake occurs while you are traveling in Japan? Of course, you are unlikely to encounter such a case. However, it is ...
About me
Bon KUROSAWA  I have long worked as a senior editor for Nihon Keizai Shimbun (NIKKEI) and currently work as an independent web writer. At NIKKEI, I was the editor-in-chief of the media on Japanese culture. Let me introduce a lot of fun and interesting things about Japan. Please refer to this article for more details.