The climate anywhere in Japan during the month of July is hot! After mid-July, the maximum emperature during the day often exceeds 35 degrees Celsius. If you are planning to travel in Japan during July, please be careful not overexert yourself while outdoors because you could be at risk for heat stroke. On this page, I will provide useful information for your trip to Japan in July.
Information of Tokyo, Osaka, Hokkaido in July
If you plan on going to Tokyo, Osaka or Hokkaido in July, please click an image on the slider below for more information.
2020/6/17
Tokyo Weather in July! Temperature, rain, clothes
Japan is a temperate country, but from July to August it is not an exaggeration to say that it changes to a tropical country. It is not unusual for the maximum temperature during the day to exceed 35 degrees in Tokyo. As asphalt roads are heated by sunlight it will actually feel like it's hotter than it is. On this page, I will provide weather information concerning traveling in Tokyo in the month of July. Below are articles about the monthly weather in Tokyo. Use the slider to select the month you wish to know more about. Below are articles on the weather in Osaka and Hokkaido in July. If you plan to go to Hokkaido as well as Tokyo, please note that the weather in Hokkaido is quite different from Tokyo. For summer clothes, please refer to the following article. Table of ContentsWeather in Tokyo in July (overview)Tokyo weather in early July (2018)Tokyo weather in the middle of July (2018)Tokyo weather in late July (2018) Weather in Tokyo in July (overview) Graph: Temperature change in Tokyo in July ※ Based on the data released by the Japan Meteorological Agency. Both high and low temperature data are averages over the past 30 years (1981-2010) Tokyo in July is really hot and it is only getting hotter than ever before due to the effects of global warming. Numerous air conditioners are in operation and the city center is getting hotter from the exhaust. Below is the meteorological data of Tokyo announced by the Japan Weather Association. ...
Please be aware of the outdoor heat and indoor cold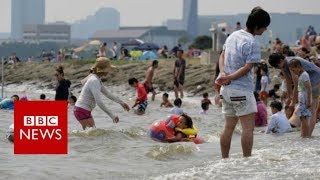 In Japan, the first half of July is relatively rainy. The rainy season from June often continues into the following month. But in late July the weather will improve and during the day it will be clear and sunny. The maximum temperature during the day is over 30 degrees every day and even at night it does not fall below 25. On the other hand, the air is very cold inside air- conditioned buildings. For this reason, some people may feel unwell due to drastic temperature changes. If you get cold easily, I recommend that you bring a cardigan or similar clothing items to wear indoors so this does not happen to you.
During the day, please drink water often to prevent heat stroke outdoors. Even if you want to visit many sightseeing spots, please be careful not to walk too much.
I cannot believe the opening of the Olympic Games in Tokyo will be during this time. I am worried that in 2020, tourists from overseas will fall down from heat stroke.
Please beware of typhoon attack
From July to September every year, typhoons will hit Japan many times. When a typhoon comes, trains will stop running in the affected area and planes cannot fly. The stations and airports will be filled with people who are at a loss. Hotels often become fully booked.
I ask that you please check the weather forecast often before coming to Japan during this time. Even after arriving, you should keep updated with the latest weather forecast as much as possible.
If you will experience a typhoon while you are staying in Japan, please make sure that reserved planes and trains will run as scheduled. If you are worried that your train or plane will be cancelled I recommend adjusting your itinerary to depart at a later time.
Hokkaido and highlands of Honshu are recommended
Between July and August, the climate of Japan is so hot that many Japanese people vacation in Hokkaido and the Honshu highlands. In these areas, it is relatively cool and easy to have an enjoyable time. Beautiful flowers bloom and there are many scenic areas, so I recommend you go to these cool areas as well.
Hokkaido and Karuizawa in Nagano Prefecture, among other places, are popular for tourists. So, if you decide to go to Japan, please make your necessary reservations as soon as possible.
If you go to a particularly popular sightseeing spot, the area usually has daily traffic congestion. For this reason, I recommend that you use trains to avoid traffic in cars as much as possible.
In Karuizawa, where many tourists visit from Tokyo, it may take more than an hour to simply move the distance of one train station by car. If you really want to drive, it would be best to depart as early as possible in the morning.
I appreciate you reading to the end.
About me
Bon KUROSAWA  I have long worked as a senior editor for Nihon Keizai Shimbun (NIKKEI) and currently work as an independent web writer. At NIKKEI, I was the editor-in-chief of the media on Japanese culture. Let me introduce a lot of fun and interesting things about Japan. Please refer to this article for more details.