If you were going to visit Japan in the summer, what kind of clothes should you wear? Summer in Japan is as hot as tropical regions. Humidity is also high. So for summer you may want to prepare a cool short sleeve clothing that is easy to escape the heat. However, since the air conditioning is effective in the building, please do not forget a thin coat such as cardigan. On this page, I will also refer to the Japanese summer photos and introduce what kind of clothes you should prepare.
Photos: Enjoy Japanese Kimono!

Recently, in Kyoto and Tokyo, services for renting kimonos for tourists are increasing. Japanese kimono has various colors and fabrics according to the season. Summer kimono (Yukata) is relatively cheap, so many people buy it. What kimono do you want to wear? Photos of the Japanese Kimono Japanese Woman Wearing Kimono ...
In summer I recommend bringing a hat or a parasol
Summer in Japan is really hot and humid except Hokkaido and highlands in Honshu.
Sometimes it is cold in June as you want a thin jacket. However, in July and August it is generally hot and temperatures during the day are often over 35 degrees Celsius. You should prepare cool clothes like tropical provinces.
Even if you visit Japan on business, you probably do not have much opportunity to wear a jacket in July or August, except when going to a fine restaurant or party. Recently, Japanese people do not wear jackets too much in business. For men, most people can not wear a tie.
Because the sun is strong, it is often sweaty, so handkerchiefs are indispensable. When you go outdoors for a long time, please also wear a hat. It is good for women to prepare a parasol.
When walking outdoors in July or August, please make sure to supply moisture frequently to avoid heat stroke. There are days when it is dangerous to exercise. In Japan, every year there are a lot of people who will fall down due to heat stroke, so be sure to take precautions.
As indoor air conditioning is quite effective, I recommend you prepare cardigans etc. if you are not good at cold weather.
Highlands in Hokkaido and Honshu may also be over 30 degrees during the day. However, since Hokkaido is relatively low in humidity, it is easier to spend than Honshu. In the evening it will cool down below 20 degrees, so please do not forget cardigans etc.
If you are climbing Mt. Fuji etc, long sleeve shirts and outerwear are indispensable. Because sunlight is strong, please also prepare hiking hat.
Examples of clothes to wear in summer
Below are the pictures taken of Japanese summer clothes.
As traditional Japanese clothing in summer there are yukata. Yukata are relatively cheap (1 wear is more than a few thousand yen), so if you are interested, would you buy it in Japan and wear it? It will surely be good memories.
For major clothing shops in Japan, I introduced in the following article.
6 Best Shopping Places and 4 Recommended Brands in Japan

If you shop in Japan, you surely want to enjoy as much as possible at the best shopping places. You probably do not want to waste your time on shopping places that are not so good. So on this page, I will introduce you the best shopping places in Japan. Please ...
Would you like to wear a yukata?
When you come to Japan, you can rent a traditional Japanese summer kimono "yukata" and wear it.
In shopping centers such as Aeon, you can also buy yukata for around 15,000 yen (including Japanese-style sandals etc.).
If you are interested, please see the video below.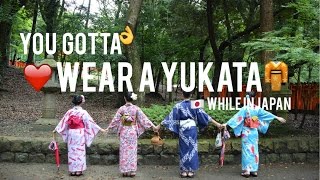 I appreciate you reading to the end.
About me
Bon KUROSAWA  I have long worked as a senior editor for Nihon Keizai Shimbun (NIKKEI) and currently work as an independent web writer. At NIKKEI, I was the editor-in-chief of the media on Japanese culture. Let me introduce a lot of fun and interesting things about Japan. Please refer to this article for more details.